German OEM Voxeljet will finally be debuting their VJET X mass 3D printing system at the GIFA International Foundry Trade Fair from the 25th to 29th of June. While Voxeljet had announced the printer a while ago, this will be its first major public appearance. The device produces sand cores for indirect additive manufacturing, achieving speeds greater than any of the company's previous systems.
From what we know about the VJET X, it has some very novel industrial capabilities. With the bed of a voxeljet VX1000 printer, spanning 1,000 x 600 x 500 mm, the VJET X is capable of a layering speed less than 5 seconds. This makes roughly 10 times faster than the company's previous models. As a result, it can achieve a printing volume of 180cm³ every 5 seconds. The system also brings in a complex, new process unit combining multiple printing and re-coating units, enabling the high print speeds and layer times below five seconds.
The VJet X was originally announced in August 2018. At the time, Voxeljet CEO Dr. Ingo Ederer stated, "Today I can say that, together with our partners, we believe we can become one of the world's first companies to deliver a 3D printing solution for automotive serial-production." He continued: "The 3D printing industry is at an inflection point and this achievement marks a key milestone in our mission."
Mass 3D Printing Metal Parts With Sand Cores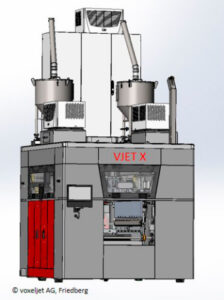 Little is known about the printer at present and the company has only provided concept images. There are a few details we do know about its mass production capabilities. The printer creates sand cores for indirect additive mass manufacturing of metal parts. Another detail the company revealed is that the VJET X increases turnaround for 3D printing by integrating fully automated handling systems for loading, unloading and post processing.
It also automates the cleaning of the printed parts via robotic systems and transporting of sand cores to casting lines. The VJET X is a very advanced system by all estimates with a significant amount of complex autonomous systems. The company are also positioning it for 3D printing automotive parts. The first clients will be using it for the production of complex water jacket cores for metal casting.
"This technology development will achieve full volume automotive production for critical engine parts," comments James Reeves, Managing Director at voxeljet UK. "It's super-fast (120,000cm³ per hour) with automated box changes, unpacking and depowdering."
Voxeljet have already sold multiple systems to German automakers. The machines bring in a lot of automation and can also provide intricate parts at high speeds. No doubt, they have a lot to offer major clients in multiple industries like automotive and aerospace. More information will be available once GIFA starts. We'll be sure to keep an eye out for the VJET X till then.
Featured image courtesy of Voxeljet.