Kodak originally showed off their first 3D printer quite a while ago, promising it's launch in 2018. The company has since shown it off at Formnext and has now officially released it for sale. Aside from the printer itself the company has also put up a whole range of diverse filaments and an online IT-compliant print management software. The company is positioning the Portrait 3D printer as a high-connectivity, multi-material and multi-purpose desktop solution.
The printer itself is a 200 x 200 x 235 mm FFF/FDM machine with a dual extrusion system with automatic nozzle lifting. The company also states that the Portrait is capable of producing reliable end-use parts with a variety of materials. This is due to a host of extra features like swappable nozzles, high temperature yield and the intricacies of the dual extrusion system, which combine to give it a lot more versatility than one would expect.
Other features include auto-levelling print-bed and a magnetically attached print surface. The Portrait can also achieve a 20 micron minimum resolution using a whole host of materials including 3rd party filaments. It's extensive remote monitoring options let users observe their print process in real-time from across the globe if need be.
Kodak Portrait, Filaments & Extras
While the Portrait, on it's own, does not offer something wildly new, it is the tip of the iceberg. It has a range of features, compatible materials and swappable parts that make it stand out in certain ways. For example, it can use ABS, Flex 98, HIPS, Nylon 6, Nylon 12, PETG, PLA+, PLA Tough, PVA and third-party filaments. To optimise their prints, users can swap out the hotends, suiting them to the appropriate materials. It also comes with Kodak's own slicer.
One of the big advantages Kodak are pushing for is the connectivity with the Kodak 3D cloud software. Users will have free access to this IT-compliant printer management software created by 3DprinterOS. It allows any user to manage a print farm for any number of machines at any number of locations, remotely. Users can access via Wi-Fi or LAN port and slice online, monitor their prints and receive real-time updates.
Specs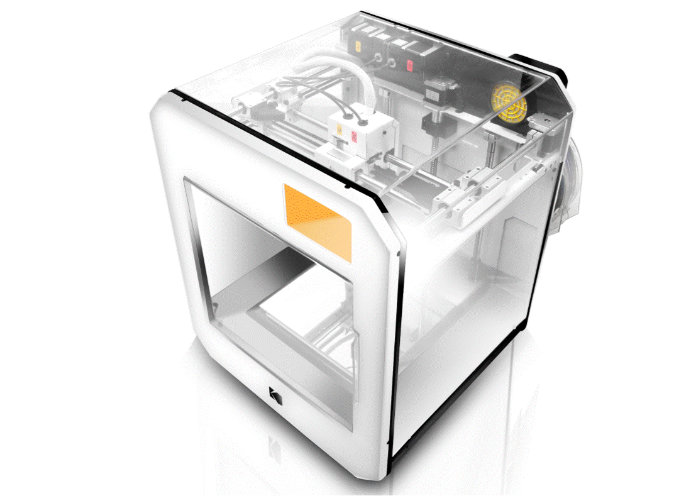 | Specs | Description |
| --- | --- |
| Technology |  FDM/FFF |
| Build volume |  200 x 200 x 235 mm (7.9 x 7.9 x 9.3″) |
| Extruders | Dual extrusion with automatic nozzle lifting |
| Hotend | 1 all-metal, 1 PTFE with easily swappable hotends |
| Filament size | 1.75 mm |
| Print surface | Magnetically attached |
| Print bed | Automatic calibration and leveling |
| Filters | HEPA filter with activated carbon |
| Minimum resolution | 20-250 micron on smallest nozzle (0.4mm) |
| Interface | 5″ color touchscreen, multiple languages |
| Remote monitoring | Camera |
| Software | KODAK 3D Cloud, KODAK 3D Slicer |
| Connectivity | Wi-Fi, LAN, USB drive |
| Extras | 2 filament cases, toolkit |
Image and video courtesy of Kodak.