CEL's Robox line of 3D printers is adding a prestigious new item to its portfolio in the form of the RoboxPRO. Aside from the improved print quality and resolution, the RoboxPRO features some state of the art innovations including 3 interchangeable printheads, an adaptive bed levelling system and a wide variety of materials. As the name suggest, this edition to the Robox line aims to please the needs of professionals and prosumers.
The RoboxPRO offers a 210x300x400 mm print volume with an enclosure and a heated, magnetic, interchangeable surface. It also offers a customisable resolution of 50 to 500 microns (0.05mm to 0.5mm). It can process 1.75 diameter filaments such as ABS, PETG, PC, Nylon and PVOH and it can further enhance it's material capabilities with the use of the SingleX printhead. Additionally, CEL haven't put a manufacturer lock on the printer, so theoretically any 1.75mm filament within the temperature range should be usable.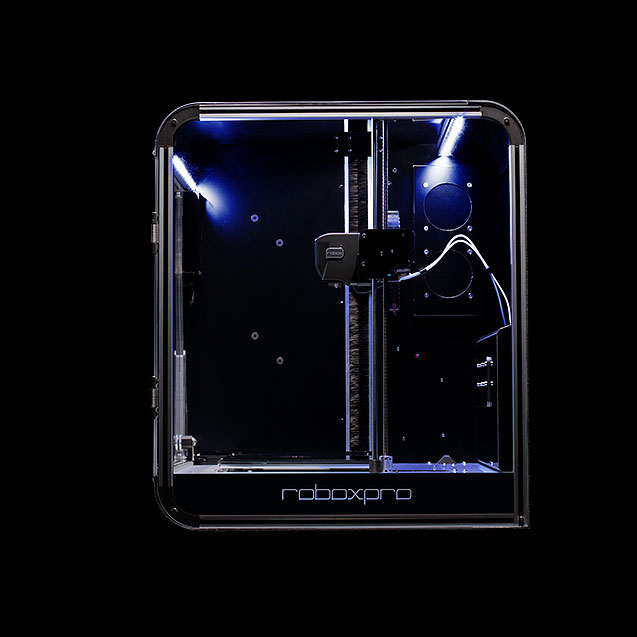 Aside from the standard specs the RoboxPRO has more some unique features worth noting. It's unique needle valves prevent viscous materials from leaking or oozing out, decreasing wastage. There's less time wasted on purges, wipe towers or heating/cooling operations. The print surface can also auto-level while heating up to an impressive 140 °C.
CEL RoboxPRO's Printing Capabilities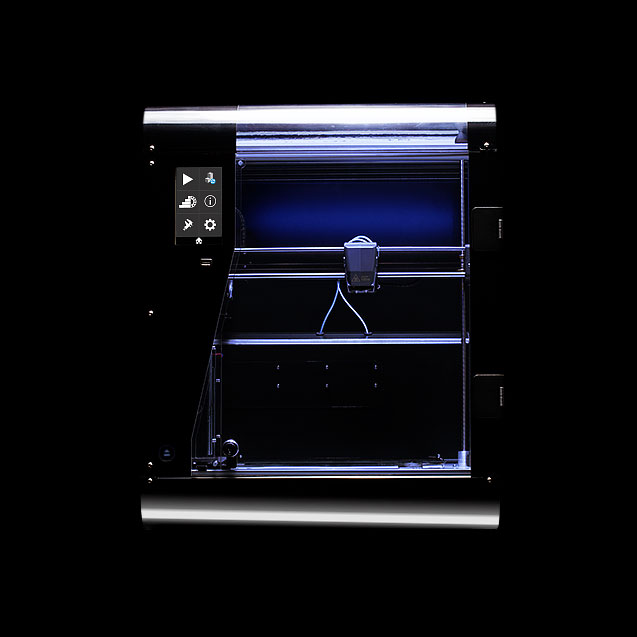 According to CEL: "Robox is the future of micro-manufacturing; with its HeadLock™ system, Robox will operate with different heads and users will have the opportunity to upgrade their Robox to become a dual material printer, stylus cutter, milling head or 3D scanner."
This same ethos carried over to the RoboxPRO, offering easily swappable printheads with better speed, quality or more materials. The Quickfill 0.3 and 0.8mm valved nozzles have a single material feed but provide high speed and detail. Similarly, the SingleX 0.6mm head is also has a single material feed but offers better processing for abrasive materials. Users can even switch to the DualMaterial two 0.4mm valved nozzles for two material feeds.
While the smaller Robox printers print just about everything, RoboxPRO is best suited for large structural parts. The larger size and multimaterial capabilities make it ideal for these sorts of professional, large-scale tasks. The RoboxPRO provides easy printing and process monitoring through multiple connected devices as well as providing a ton of safety features such as door locks during cooling, allowing for a secure and efficient workflow.
The company plans on releasing the RoboxPRO next month and it looks like a printer to watch out for. A large print volume, potentially limitless material choice and a ton of features make certainly it a tour-de-force.
15% Pre-Order Discount at CircuitSpecialists.com
The RoboxPRO is in the USA exclusively available at Circuit Specialists. If you pre-order the RoboxPRO before October 31st and use the discount code FALLPRO15  you will receive a 15% discount on the total price!  Visit the 3DPrinting.com DEALS page for more deals. For an overview of all the specifications of this 3D printer, please visit the CEL RoboxPRO Pricewatch page here.
Featured image courtesy of CEL.