3D printing is constantly helping us map out all sorts of medical treatments, so it's no wonder it would cross over into veterinary care. One such story comes from Cleveland, where Bento the puppy received treatment for his recovering forearm. While the pup was recovering, the process was coming along a little crooked. That's when Malcolm Cooke, Executive Director of Case Western Reserve University Think Box stepped in.
Bento survived a terrible fall as a pup but the incident severely fractured his forearm. The uneasy recovery from the initial incident retained certain complications in his bone structure causing another fracture. Bento severely needed a subsequent surgical operation.
"I came into work one day, and there was this tiny, adorable little puppy staring out of a kennel. Even though his break was healing, he was healing with his leg sort of crooked… He missed out on some of his puppyhood". Bento's owner Emily Conway recounts. "He had been through so much already; he was so young."
Printing For Veterinary Care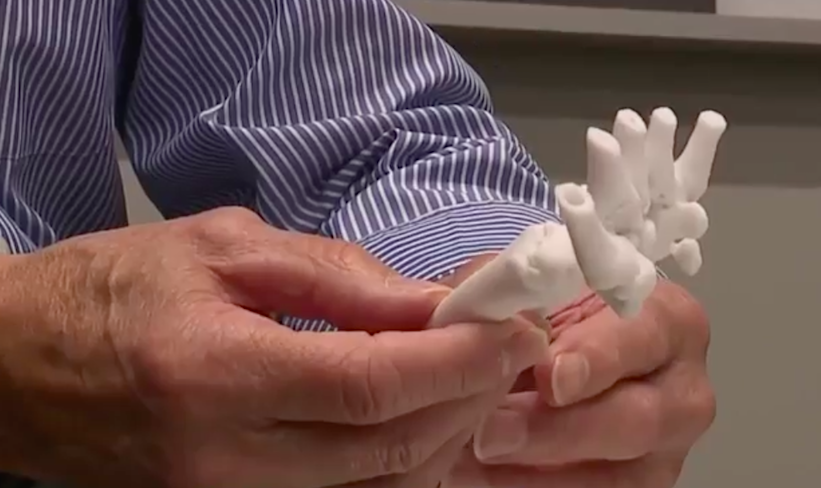 "Normally I work with orthopedic surgeons and dental surgeons… 3D printing is used a lot for surgical planning… It would have been impossible to have got to this level of detail in terms of planning. The planning would have gone on in the OR" said Malcolm Cooke.
Cooke used his expertise in additive manufacturing to transform a scan of Bento's leg into a 3D model. After printing it, he created an object which the veterinary surgeon could inspect and hold. The 3D model became the basis for planning as the surgeon was able to map out the precise cuts and pins before the surgery for practice.
Bento's story is important because Cooke and his team are now incorporating 3D printing technology into more patient's surgical planning. Moreover, Cooke was able to do all this without ever meeting Bento in person. Surgical planners can thus aid in the process remotely, potentially all over the world. Cooke's future work in the field will undoubtedly include dogs as well as other animals. Cooke says that they are now working on one for a sheep with a broken leg who requires a similar process.
Bento is now one year old and will be living out a healthy life.
Featured images courtesy of News 5 Cleveland.